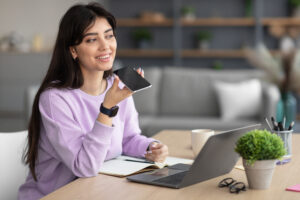 Why should Voice Search become part of your SEO strategy in 2021?
If voice search optimization is not part of your overall SEO strategy, it is time to change that.
Voice search may have started as a small concept, but it is now one of the most important topics in the search industry. The ease to search with voice is second to none, and people cannot get enough of it, especially for people who use their phone when searching online. Voice search is now no longer just a fad.
The concept of voice search started with smartphones then quickly move to smart speakers and voice assistants globally. Today we are experiencing a voice search revolution with almost every generation welcoming voice search with open arms.
Understanding Voice Search
It is important to understand that voice search is more natural and conversational in tone–and that it is most often performed on a mobile device for local search purposes. Because they are more natural, voice searches also tend to be longer than text-based queries.
Voice search, in general, is all about delivering on-the-go results in the location in which the user is currently located. Just imagine for a moment that you are 30 miles away from home and you want to know where is the nearest Walmart what would you do? 2 to 3 years ago you will probably type in to google search on your smartphone Walmart near me, now you can do that but instead of typing it in you simply say "Hey Google" where is the nearest Walmart and your google app will show you the nearest Walmart based on where you are and will give you the exact direction on how to get there.
What is Voice Search? Why is it Important?
Voice search is a technology that allows you to say a voice command to access information on Google and other search engines.
Impact of Voice Search
Moving forward, voice search dramatically impacts the future of SEO and digital marketing. As artificial intelligence and machine learning algorithms become even more accurate and advanced, the ability for voice search to upgrade the marketing space will continue to increase.
As technology advances, Siri and Alexa's responses will become more contextual and employ deeper reasoning. This will change the landscape of voice search because Google will react by altering its algorithm and SEO tactics, such as keyword targeting and on-page optimizations.
As the quantity of available voice technology expands, the world of digital marketing as we know it will be a story of the past.
Voice Search is Faster and Easier
There is not a shadow of a doubt, that voice search is faster than traditional methods of searching for a query; this is what makes it the number one reason for people adopting the trend.
A quicker search results in answers being delivered to us quicker.
Voice Search is More Appropriate and Convenient
In our digital world, where time is money, no one likes to type their questions. When their answer is only a sentence away, people tend to choose the easier path.
If we had to choose between typing and speaking a query like "when will apple releases their new iPhone product?" we all would choose the latter option for obvious reasons.
The way people search for information online has changed significantly over the past couple of years. People are increasingly using voice search via their tablet, smartphones, or voice assistant (like Google Home or Amazon Echo) to find what they are looking for online. iPhone users rely on personal assistant Siri to get them what they need, Google voice search is popular on Android devices.
According to Hitwise, nearly 60 percent of searches are now performed on a mobile device, and many of these are done through the voice search feature–to find local restaurants, get directions, order products, find out about the weather, and more.
Voice Search is here to stay.
Do you need help with optimizing your website with voice search? We can help.
Full Force Web is a full-service web development company.
We provide structured solutions to business owners to help them grow their business online.
To find out how we can help your business grow online with your very own unique website, call us for a Free Consultation… 941-548-6139