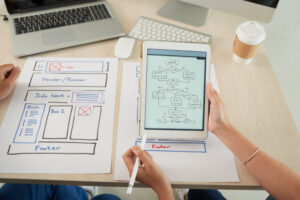 Mistakes done on your website can have a negative effect, both on your search engine ranking and business growth. With millions of websites online now, users will not tolerate unprofessional and disorganized websites that don't provide the information they are looking for and expect.
You only have one chance to impress your visitors, so if you made a major mistake on your website you might loose them forever. Below are some common mistakes that you need to avoid when you build your website.
1. Not having a focal point
Be sure that your home page clearly states what your website is all about, if you're selling products make sure you let them know what are the products that you are selling. Don't frustrate your website visitors, be clear and direct, provide the information that they need to know right up front about your website.
2. Poorly design navigation
Keep your navigational menu simple; don't confuse people by having a horizontal and vertical navigational menu both at the same time. Help them find what they're looking for by providing a simple navigational menu.
3. Too Many Clicks to go through
People are impatient and in a hurry. You don't' want to make your website visitors and potential customers get aggravated by making them go through to too many clicks to get to a certain page. Eliminate unnecessary clicks on your website or you'll lose a prospect every time.
4. Website Clutter
Make sure that you only put the information that really pertains to your website. Don't waste your visitors time with long blocks of copy, sales pitch, multiple promotional offers and worthless downloads, you'll not only confuse them, you'll also drive them away.
5. Readability Issues
Use dark fonts on light background, light fonts on dark backgrounds, and use at least size 16 for the font size. Don't assume that all your website visitors will have a 20/20 vision, use common sense.
6. Outdated Information
Having an outdated information on your website is a big NO-NO. You will just make your website visitors click the exit button.
7. Contact Form Frustration
If your website has a contact form, make sure you only put the questions/fields that are needed. And don't identify one as mandatory if it really isn't.
8. Images not optimized
Optimizing images on your website will reduce the file size of an image without any loss of quality, this will help your website to load faster when a user visits your website.
9. Lack of Contact Information
Always make it clear for your website visitors how to reach you, whether it be a contact form, an e-mail address, or a phone number. If you want to turn your website visitors into a lead or sale, make it easy for them to contact you.
By avoiding these mistakes you can build a much user friendly website, which can give your website visitors a more positive web experience. And if you can give your website visitors a positive experience, you have a much better chance of converting prospects to clients.